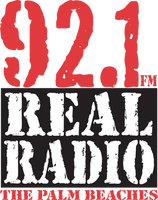 The Talk of the Palm Beaches
Real Radio 94.3 is Real Talk for the Palm Beaches. The cutting edge of what's going on locally and throughout the country. Real Radio is the pulse of Adults 25 to 54 years old. The content consists of life, sports, news, gossip, entertainment and everyday questions with a local flare.
The Show lineup includes Rover's Morning Glory, The Penthouse during the midday, The Love Doctors on your drive home and Lex & Terry evenings. All four shows have their own unique personality and style.
Real Radio listeners are able to call in and interact directly with each show. WZZR listeners are loyal to their station and its On-air personalities.
Call Letters: WZZR
Format: NEWSTALK
Dial Position : 92.1 FM
Brand: Real Radio 92.1
Target Listener: Adults 25-54